ANYONE WHO HAS EVER HAD A CURRY IN A THAI RESTAURANT KNOWS THAT, IF DONE WELL, YOU WILL FIND YOURSELF LICKING THE BOWL. NOW YOU CAN LICK YOUR PLATE IN THE COMFORT OF YOUR OWN HOME. YOU WILL HAVE TO MAKE A TRIP TO A SPECIALTY GROCERY STORE, BUT IT'S WORTH IT.
::Panang Curry Paste::

The Panang (Penang) curry paste in this recipe is made up of shallots, galangal, lemongrass, kaffir lime peel, white pepper, cilantro root and shrimp paste. Roasted seeds are usually added and may certainly be pounded into the paste (1-2 tsp of each). Peanuts can also be pounded into the curry paste but in our recipe the peanuts are added to the boiling coconut milk mixture.

Ingredients:

5 large dried red spur chiles seeded and soaked
10 cloves garlic

8 fresh Thai chiles

5 sliced shallots
1 tsp sliced fresh lemongrass
2 tbsp finely sliced kaffir lime rind

1 tsp finely sliced cilantro stems or root
1 tsp salt (sea salt is preferred)
1 tsp Thai shrimp paste

Preparation:
Pound dried chilies and salt together well in a mortar and pestle. Add galangal, lemon grass, kaffir lime rind and coriander root, continue pounding until mixed.
Add shallots and garlic, follow with pepper and shrimp paste. Pound well after each addition.
Cook's notes: This curry paste could also be prepared in a small blender container or food processor.
::Panang Curry::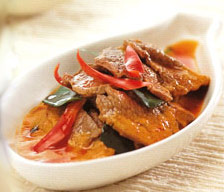 Panang curry takes it name from the city island off the West coast of Malaysia, which is also known as Georgetown. This type of curry is richer, sweeter, and creamier then the more herbal Thai red or green curries, making it very popular with foreigners.
Peanuts, a unique ingredient in this recipe, are found in only one other Thai curry, Masamam. Beef is the most famous type of Panang curry but chicken, pork, fish or even liver can also be delicious. Vegetables are not usually added to Panang curry, but tiny bitter green eggplants could be a possibility. This is a drier type of curry more like its Indian cousins, with just enough sauce to cover the meat.
Ingredients:
3/4 lb (400 grams) beef or chicken

3 tbsp homemade Panang

curry paste
6 kaffir lime leaves, torn
1/4 tsp salt
3 tbsp palm sugar

1/2 cup Thai basil

Preparation:
Wash the beef, cut into pieces about 3 cm (about 1 inch) thick.
Heat 1 cup of coconut milk over medium heat until the oil surfaces. Add curry paste, stir constantly for 2 minutes until fragrant and red oil surfaces. Add the beef, and cook for a further 5 minutes or until done. Add the remaining coconut milk.
Season to taste with salt, fish sauce and sugar. Add roasted peanuts, stir well. Reduce the heat and simmer for 15 minutes or until the beef is tender. Stir well to combine. Sprinkle kaffir lime leaves on top, and turn off the heat.
Add basil in the last 5 minutes.

Serves 4.
::COOKS NOTES::
If you live in Ottawa, this is where I went to pick up the ingredients. BestPrice Oriental Market.